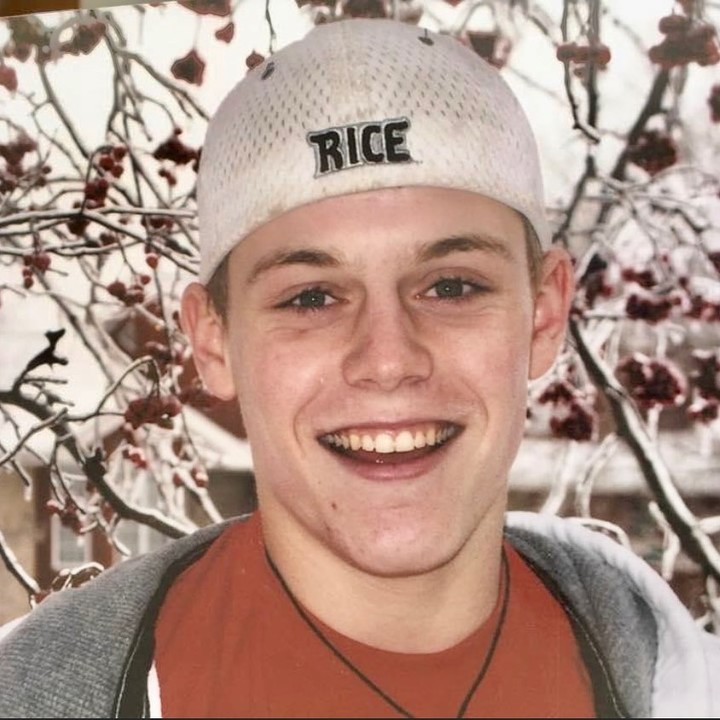 Steven M. Bajenski
Birthdate: May 8th, 1992
GROWING UP
Steven Michael Bajenski was born on May 8th, 1992, a birthday he would share with his mother Karen. He came into this world, surrounded with friends and family filled with excitement and joy. The buzz he generated would set the tone as to how he would lead his life. Steven was destined to make a difference to all he encountered and leave a lasting impact wherever he went. However, few knew at that point how truly of a special gift the only son of Mark and Karen Bajenski would turn out to be.
From day one and every single day for the next 17 + years, Steven Bajenski was a fighter. He was born w/an abnormal aortic valve, which required open heart surgery at 10 weeks old. He fought hard & came out of that surgery like a champ and never looked back. Even as an infant he had that "it" factor inside him. Nothing could ever stand in his way.Steven spent his childhood growing up in Mokena, attending all of the local public grade schools, Mokena Elementary/Intermediate/Jr High. It was during these years that his love for athletics began. Stevie stayed active in baseball, basketball & football. Despite being smaller in physical stature and being born with a heart defect, he never let this deter him from playing sports. In fact, his passion was growing stronger then most young men his age because he had to be more determined and work harder to achieve what came easier to others.
It was in 7th grade, Stevie's character would be tested once again. He was diagnosed with narrowing of the valve and told he had to give up participating in basketball and football. While this latest set back saddened him to certain degree, he took advantage of the situation and saw this an his opportunity to get better in the game he truly loved, baseball. He now would come to realize what his family had seen in him since the age of 4 years old when we would beg his mom to throw pitch after pitch to him, because his dad was at work and his older sister threw (as Steve said)…stupid.
The family knew Steve was destined to be a ballplayer. Stevie's Mokena baseball career was spent playing for his Dad in the Mokena Little League for the Mokena Thunder and travel for the Lincoln Way Blue Demons. Here, he learned that when you're small in stature, you need to be big in brains. Stevie was a student of the game. He was easy to coach & eager to learn. When they crossed the white lines onto the field they were player and coach. Off the field they were not only father and son, but best friends as well. Their bond was strong and it grew because of the game of baseball. They shared wins & losses. But, most importantly, they shared time together creating memories that will never be forgotten. It was also around this time when Stevie became known as Budgie.
STEVIE BECOMES KNOWN AS "BUDGIE"
Always undersized, Stevie knew that if he was going to be successful and play at the next level, he would need to be fundamentally sound, do the little things well & outwork everyone (get better everyday). He loved this game and figured the only way to get better is to play against the best competition.In the Spring of 2006, Stevie made the long trek from Mokena to Mount Carmel HighSchool. Many questioned his decision to travel such a long distance to go to school when he was surrounded with many great options much closer to home. The baseball program(Team concept), academics & history all played a significant role in his decision process.He became a 3rd generation Bajenski to attend Mt. Carmel (Grandfather Lenny '57grad and his Dad Mark '79). Stevie loved every minute of his time there. The family atmosphere, the diversity, the academic challenges presented to him, and the overall experience of molding himself into a man of great character made it the right choice for him.
Through his hard work and dedication Stevie was a standout in the classroom. Going into his senior year, he was ranked #4 in his graduating class with a 4.7 GPA on a4.0 scale and had just scored a 29 on his ACT. With a resume such as this, Stevie made a name for himself in the classroom, but it would be on the baseball field where he his legend would be made. During his high school years baseball was divided into two areas.The Mount Carmel Caravan and The Illinois Sparks would both be proud to call him theirs.In the summer of 2007, he joined the Illinois Sparks. He loved everything about being a Spark.
The team provided him with a haven worthy enough to serve the biggest baseball enthusiast and give a player with a dream a chance to realize it. It was a perfect match.He loved the facility/dome. Where else would he get the opportunity to put in hours and hours of baseball work each week surrounded by teammates with the same passion as his. What proved to be most valuable was the atmosphere and the friends it afforded him the opportunity to meet. These guys shared his love of the game and his goal to always get better. The fact that all the players were good, drove him to put out his best effort everyday. It provided him with the next challenge he needed. It allowed him to face adversity like he always did…with a smile on his face. He had a dream and he wasn't going to let anyone or anything stand in his way of achieving it.
Stevie loved everything about his Sparks experience, especially the coaches. These were guys that were all baseball people and that he knew would make him better. Like Carmel, the Sparks were a perfect fit. He even loved the schedule, because he always looked forward playing the best teams in the country. Stevie knew that to be the best, you have to beat the best.While Stevie played for the Sparks in the summer, the spring time was all about theCaravan. During his freshman and sophomore years he became a leader to his teammates and received the admiration of his coaches because as Sophomore Coach Bob Kujawa said, "He was the only player that played the game the right way every time out and was all about the team."
THERE'S ONLY ONE WAY TO PLAY THE GAME
​
Each of his first two years the name Bajenski was penciled into the lineup card next to 2B day in and day out. Not because he was given preferential treatment, but because any time another player worked at his game enough to get into a position to compete for the spot, Stevie would simply just out work him and get farther ahead. He believed that it was his spot to lose and you were not going to get it. He was chasing his dream and had no intention of being denied.According to Varsity Head Coach Brian Hurry, "He was an extremely hard workingk id, who earned everything he got both academically in the classroom & athletically on the baseball field". He was smart enough to understand that when you're small in stature, you need to be big on brains. Stevie always was a student of the game, learning the ins and outs of the game of baseball. Always undersized, he knew if he was going to be successful and play at the next level, he would need to be fundamentally sound, do all the little things well and outwork everyone (get better everyday). While he was battling each and everyday on the field, throughout high school he continued to battle off the field as well.
After a successful freshman year he was diagnosed with more blockage in the valve. Stevie underwent a successful Aortic Valve Ballooning and in 3 weeks he was back to baseball, better than ever. Yet again in January 2009 more challenges presented themselves. Steve was notified that his Aortic Valve was narrowing & another Ballooning procedure would need to take place. He had the procedure done, but unfortunately it didn't work as well as the doctor's had hoped. The doctor's told the Bajenski family that surgery was required and would need to happen relatively quickly. Stevie had asked if it could be put the surgery off until after his Junior year of high school season and his summer Sparks season because he was on a mission. He had a job to do and a dream to chase. The surgeon agreed and Stevie went back to work to make sure that he would be the starting 2B for his Caravan baseball team.
His unrelenting work ethic paid off and for the third time in three years, when his Caravan team took the field he got the starting nod.The 2009 Caravan and Sparks seasons were a success, but in Steve's mind it wasn't enough. There was only one way to reach his goals and he wouldn't stop until he got there. Decisions were made and he was to undergo open-heart surgery once again in late July.
Now, they say everything happens for a reason and while we may never truly understand why God called Stevie to start at second base for his team, all who knewStevie are left to be far better people for having known him and called him a friend, a brother, a son, a grandson, a teammate, a player, an inspiration, an idol, a hero, or a role model. Steven was a man of integrity and character that could light up the room with his smile. He was an impact player in the game of life. He lived a lifetime in his 17 short years and had a true passion for life, which centered around his love for family, friends,MC and baseball. Although his time with us wasn't long enough, he touched thousands of lives. Stevie taught us that each day is a gift. Be happy, be thankful, & live each day to the fullest. Only worry about what you can control, not what you cannot. Play the cards dealt to you without complaint. Do it the right way & you'll never have any regrets.View adversity as merely another challenge to overcome. Don't ever back down. Always follow the golden rule.
Be a team player. Make a difference everyday!